Cubiks Tests
Cubiks is an international assessment consultancy, with products used by businesses in over 50 countries for candidate selection, development and talent management. Cubiks tests are recognised as well balanced, easy to analyse, and straightforward for candidates to complete.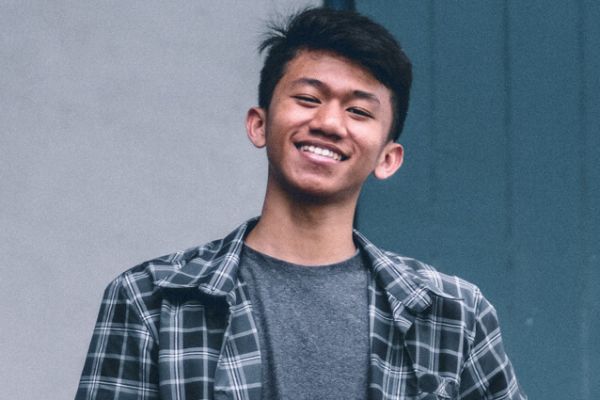 Within two hours of practice I have improved my score from 50% correct to 88%.
Joseph used Practice Aptitude Tests to improve his numerical reasoning scores.
Start your success story
PAPI personality assessments
The PAPI (Personality and Preferences Index) is a personality questionnaire created to assess how a candidate behaves and performs in a working environment.
This allows the recruiter to understand more about the personality of the test taker and discover their strengths and weaknesses – either to assess them against other candidates, or to provide a baseline for Continuous Professional Development.
PAPI N test
The PAPI N (Personality and Preferences Index Normative) is usually used as part of a pre-employment screening process. The questions are presented as statements and the candidate must rate them according to how much they agree or disagree.
There are no right or wrong answers, so it is important that these questions are answered based on the way the candidate believes they behave at work.
As part of a recruitment process, the answers will be compared against a control group to highlight the candidates that are most suitable for the role in terms of personality and work preferences.
The PAPI N test is untimed, but usually takes 25–30 minutes to complete.

Source: https://practicetests.cubiks.com/
Answer: As this is a personality test, there is no correct answer.
PAPI I test
The PAPI I (Personality and Preferences Index Ipsative) test assesses the candidates preferences and personality at work, using three statements about behaviour. These statements allow the candidates to select the ones that are most like and least like their personality at work.
In a similar way to the PAPI N test, there are no right or wrong answers. It is untimed, but usually takes 30–35 minutes to complete.
The PAPI I test results are not used to compare to others; instead, they are used to help form a development and training plan as part of the employee's Continuous Professional Development.

Source: https://practicetests.cubiks.com/
Answer: As this is a personality test, there is no correct answer.
Situational judgement tests
Situational judgement tests assess a candidate's suitability for a role based on their decision-making skills. A work-based scenario is presented with several options for a suitable course of action; the candidate must choose what they would do in that particular situation.
In the Cubiks SJT, a brief description of a scenario is presented, along with possible actions. The candidate must select the next steps, based on their effectiveness at dealing with the situation in the best way.
For a candidate, this is a great way to demonstrate their problem-solving and leadership skills, as well as getting some insight into the role they are applying for.
The Cubiks SJT is a simply presented online assessment suitable for many roles in an organisation, from supervisory to upper management.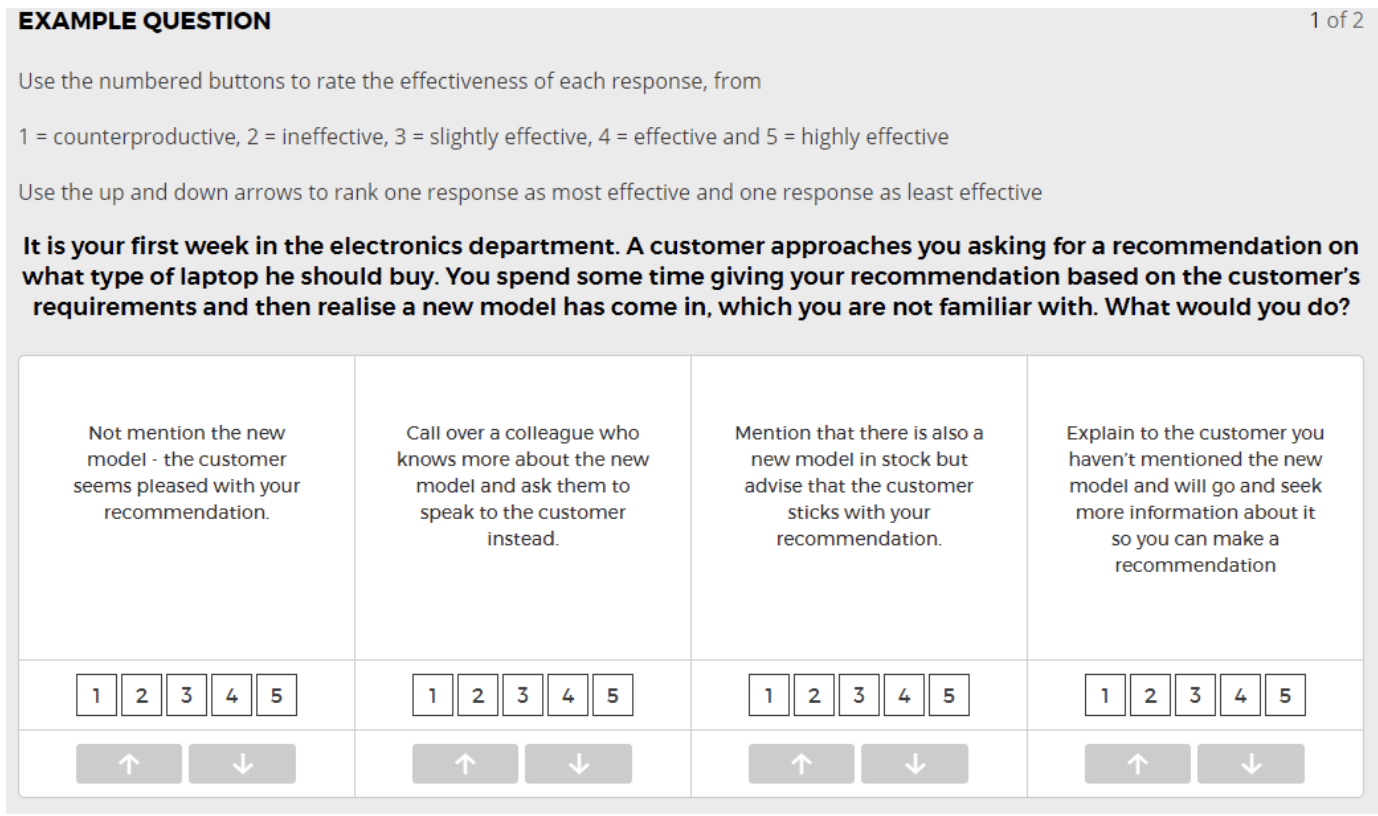 Source: https://practicetests.cubiks.com/
Answer: In the same way as the PAPI tests, the Cubiks SJT does not have a right or a wrong answer - it depends very much on your own problem-solving methods.
Which employers use Cubiks tests?
In the UK, the National Audit Office is an independent group that audits the government and parliamentary agencies. It uses the Cubiks test battery to assess candidates before interview, and as part of its graduate recruitment scheme.
Shell uses various Cubiks tests to screen candidates during the recruitment process as well as to develop employees in role. KPMG relies on Cubiks tests to help screen potential job candidates.
Other well known employers that use Cubiks tests include:
How to prepare For Cubiks tests
Because the Cubiks test batteries do not require any formal knowledge or training, there is no need to have extensive knowledge beforehand.
The day of your online Cubiks assessment, be sure to have had a good night's sleep and a decent breakfast to set you up well for the test.
Find a quiet space where you are unlikely to be disturbed, and leave yourself plenty of time to complete the assessments in case there are any problems – such as with your internet connection, for example.
Bear in mind that you are being assessed on your abilities, innate knowledge and personality during Cubiks tests.
How to pass Cubiks tests (5 key tips)
1. Practice
Although you might have taken similar tests in the past, practicing Cubiks assessments will help to make sure that you are as prepared as you can be on the day. Familiarity with the question style and assessment structure will give you confidence to answer the questions quickly and accurately.
Where some assessments might ask for a single answer, others (like the PAPI) might ask you to rate or rank more than one.
2. Make sure you are prepared
Alongside the preparation tips above, make sure that when you sit down to complete the test you have everything you need. This might include a notepad and pen, a calculator, or even just a drink.
Minimising distractions during the test will help keep you focused so you can perform at your best.
3. Read the information provided
There are no 'trick' questions in the Cubiks tests, and all the information you need to find the answers are available in the instructions and in the provided information. Take time to ensure that you read the instructions thoroughly, so that you can answer in the right way.
4. Be quick, but don't rush
Some of the Cubiks tests, like the Logiks, are timed. You need to be aware of the time you are taking answering the questions – so if one seems particularly tricky, leave it and come back to it at the end if you have time.
While working quickly through the Logiks questions is a good idea, you do need to be sure that you are giving yourself enough time to read and absorb the given information before answering.
5. Use the questions to help you
As previously mentioned, the information you need to answer correctly is provided – you just need to find it. It might be in a table or graph as part of the numerical test, or written in a block of text on a verbal test, but it will be there.
Use the questions, statements and any other given information to help you throughout the process.
FAQs
How are Cubiks tests scored?
Logiks tests are automatically given a percentile score based on total correct answers, speed and accuracy. These percentiles are created by measuring the scores against a comparison group that also took the test.
If your percentile score is 75%, this means that you scored higher than 75% of all the people that also took the test.
For the PAPI N test, your answers will be compared against other test takers as part of the pre-employment assessment. This means that the employer will use the answers you give to create a profile for you, based on your personality and preferences in a work situation.
In the PAPI I test, the answers are not usually compared against others. Instead, they are used to create a development and training plan.
Are Cubiks tests difficult?
Any psychometric assessment needs to be challenging for it to have value as a recruitment tool. The Cubiks tests are challenging because of their structure and the way in which information is presented, which is why practicing is important.
Once you have familiarised yourself with the structure and language used in the questions, it will be easier to focus on finding the right answers.
How long is a Cubiks test?
The Logiks General (Intermediate) test is just 12 minutes long, while the Advanced is 20 minutes long.
The Logiks Verbal (Advanced) and Numerical (Advanced) are 25 minutes long, while the Abstract (Advanced) is 15 minutes long.
The PAPI tests are untimed; however the PAPI N usually takes 25–30 minutes to complete and the PAPI I takes about 30–35 minutes.
How will I take my Cubiks test?
Most Cubiks tests are taken online, so they can be completed almost anywhere. For some employers, online assessments might happen at an assessment centre. A link to the test will be sent to you, for you to open and complete.
Practice Aptitude Tests is not associated with Cubiks. We provide preparation services for Cubiks psychometric tests. Visit https://www.cubiks.com/ to apply.
Try Cubiks Tests for Free
Free

Cubiks 01

20 Questions|20 Minutes
Improve your scores with our intelligent learning system
Get instant access 24/7 to real life tests

Track historical test performance with our custom dashboards

Learn from mistakes with our fully worked solutions

Prepare for top employers with our bespoke employer packages

Compare your scores against industry standards

Access all 20 Cubiks Tests
Improve your hiring chances by 76%
Prepare for your Cubiks Assessment
One-time payment. No recurring fees
Cubiks Package
1 month access
20 Cubiks Tests
Dashboard performance tracking
Full solutions and explanations
Tips, tricks, guides and resources
Upgrade now
30-Day Money-back guarantee
All Test Packages
12 months access
20 Cubiks Tests
45 Numerical reasoning tests
45 Verbal reasoning tests
30 Diagrammatic reasoning tests
30 Situational judgement tests
25 Publisher packages e.g. SHL
180 Employer packages e.g. HSBC
+ 11 Extra packages including: Abstract, Inductive, Mechanical, Personality and more
Dashboard performance tracking
Full solutions and explanations
Tips, tricks, guides and resources
Upgrade now
30-Day Money-back guarantee
SSL secure payment