What is a Cubiks test?
Cubiks produces a range of online tests that can help with screening and selecting candidates, as well as identifying and developing existing talent. It is now part of PSI Services, and is the psychometric test provider of choice for many more big firms and smaller companies.
The Cubiks tests themselves can be broadly split into several categories (see below), and the questions relate to a specific skill set. Each question pack can be used separately, or a combination can be created that is specific to a particular career.
The Logiks tests are based on verbal reasoning, numerical reasoning and abstract reasoning, in either an Intermediate or Advanced test.
The PAPI (Personality And Preferences Index) is a questionnaire that is used to assess the way a candidate behaves at work.
The Situational Judgement Tests (SJTs) are used to assess a candidate for their skills in dealing with work situations, usually for leadership positions, and there are other tests available for assessing both candidates and personnel already in position.
Logiks tests
The Logiks tests are intuitive and offer a simple interface for candidates, so they are easy to understand. Logiks tests are available as general assessments that include questions on verbal, numerical and abstract reasoning, at both Intermediate and Advanced levels.
The Logiks General (Intermediate) is split into three sections. The first is verbal, with 4 minutes to complete 24 questions. The numerical section should take 4 minutes, and there are 16 questions to answer. For the abstract section, there are 4 minutes to complete 10 questions.
The Logiks General (Advanced) has a similar structure to the Intermediate, with three distinct sections. In 20 minutes, the candidate must answer 12 verbal, 8 numerical and 10 abstract questions.
For the Advanced level questions, there are also three separate tests, each on a different skill.
Logiks verbal tests
As with other verbal reasoning tests, each Logiks verbal test presents a section of text that the candidate must read and understand. A question is asked about the content, and the candidate must answer based on the information provided.
No previous knowledge is needed or assumed, as all the information needed to correctly answer the question is provided. The answers given are multiple choice.
In the Logiks verbal test, there are 36 questions that must be answered in 25 minutes.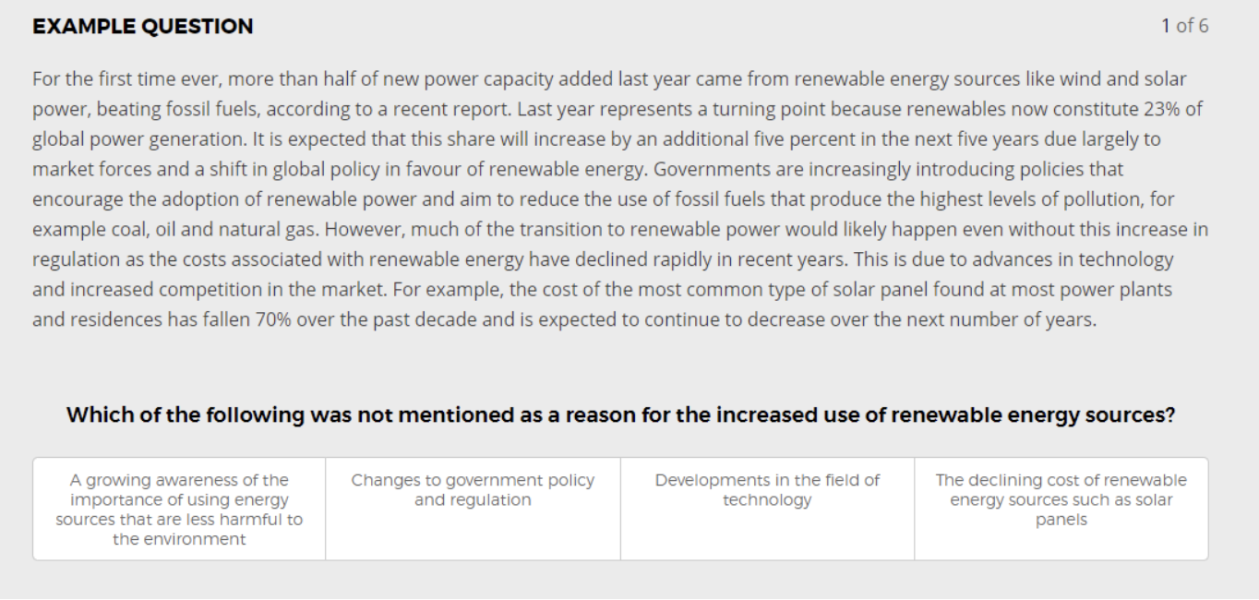 From https://practicetests.cubiks.com/
Answer: "A growing awareness of the importance of using energy sources that are less harmful to the environment." All other reasons were mentioned in the given text.
Logiks numerical tests
Numerical reasoning tests assess a candidate's ability to read and understand numerical data and use the information to answer questions.
Other than an understanding of mathematical basics like tables, graphs and percentages, no in-depth knowledge is required as the question provides all the information needed. Candidates are presented with multiple-choice answers to select from.
In the Logiks numerical test, there are 20 questions that have to be answered in 20 minutes.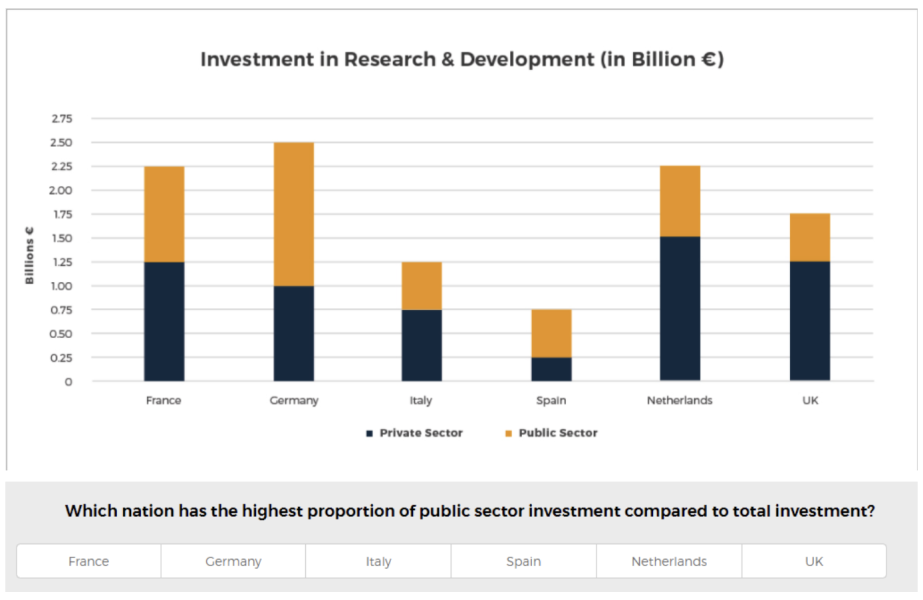 From https://practicetests.cubiks.com/
Answer: Spain. Although it might have the smallest total, the amount of public sector investment is proportionately higher than the total investment.
Logiks abstract tests
An abstract reasoning test uses patterns and images to assess a candidate's ability to make logical decisions about what comes next. In the Logiks abstract tests, the same principle applies – the continuation of a pattern from multiple-choice answers.
The Logiks abstract test has 30 questions to be answered in 15 minutes.
Source: https://practicetests.cubiks.com/
Answer: B. It is the same block as the second one in the pattern, so would be the logical one to complete the pattern.