Situational Judgement Tests
Situational Judgement Tests assess how you approach situations encountered in the workplace. They are built around hypothetical scenarios to which you would be expected to react accordingly. Based on your answers it will be verified how aligned you are with values and behaviors of a particular company.
Prepare yourself for leading employers
What kinds of competencies do SJT's test?
Below is just an example of core competencies they test.
Outstanding Communication Skills
These tests largely concentrate on your 'people skills' so, good communication and networking abilities should earn you a few points. But what really constitutes a good communication? In short, this is how you relate to others, and how good you are at adapting the style of a conversation to successfully influence and communicate with people. Behavioural thinking and a good level of empathy are therefore necessary to succeed, as you would be expected to effectively communicate your information both orally and in writing, in a manner appropriate to the audience, with clarity and purpose.
Team Spirit
You might have been a soccer star in your secondary school, but collaboration on a football pitch can be different from the one expected in the work environment. While taking the Situational Judgement Test, remember to demonstrate your ability to work collaboratively and empathetically within diverse teams. With the required efficiency in mind of course. Being a team member for some employers might also mean – putting the needs of the team above your own and being able to demonstrate openness and honesty with all the members. This is usually achieved by encouraging, listening and supporting your team pals and wider team members.
Good Networker / Strong Relationship Builder
You need to know how to successfully network with your team members but to be a truly Good Networker you equally would need to be able to network outside of the organization. Being an outstanding Relationship Builder is not limited to sustaining effective relationships in your workplace but also beyond it. Employers know that only someone who is a Good Networker would be able to establish and sustain effective relations with customers, partners, and suppliers to support the long-term goals of a company and oneself.
Customer Focus
We all are familiar with a growing significance of reputation systems that are embedded in most of the online services we use. We got so used to five-starring things and thumbing others down that it's hard to imagine how the world has spun before the invention of these systems. Customer experience is highly important, and employers know it. To score highly in Situational Judgement Tests, you would have to be customer- oriented to a similar level. This means, of course, striving to understand their needs, and being prepared to guarantee them timely and efficient service. And sometimes, going the extra mile to surpass the expectations.
Creative and Analytical Thinking
On many occasions it might have been stressed in your job spec that the successful candidates would have to prove their ability to think creatively and analytically. This, of course, could mean anything from being highly skeptical about an idea presented to you in a job simulation, to an elaborate analysis of the company's revenue. But usually, what is meant is your ability to think independently with a good balance of realism and pragmatism. As an Analytical Thinker, you would have to demonstrate the intellectual capacity to identify and propose solutions, while considering a multitude of angels. Employers are looking for confident thinkers, who easily draw conclusions, even when dealing with conflicting or complex data.
Strong Commercial and Market Awareness
Especially counts when you are applying for a job in marketing or finance. Commercial awareness, together with market and competitor knowledge usually would drive your decision making. These skills would be highly anticipated in financial and commercial sectors. Employers are aware that people with such skills are most likely to seize opportunities to grow an organization and address wider issues that could impact its success.
Having the Achiever Attitude
A true achiever personality could be sum up with three simple words: drive, determination, and resilience. If you have a so-called 'can do attitude' it means you are responsible for successful delivery of your own tasks, while being ready to work hard and display enthusiasm in all you do. Someone who is focused on achieving results knows how to approach work with a sense of urgency, and keeps the end goal in sight at all times. Even at times, when challenging circumstances blur the horizon.
Planning and Organising
We know that you don't need a dictionary description of what planning and organizing might mean in a company, but just to remind you – employers are really keen on checking if you are able to deliver high-quality work in an efficient and timely manner. Planning could also mean successfully managing not only your time but also time of other team members while ensuring all necessary resources are available as required. If you are a good planner, it means you able to create and monitor clear action schedules and you know how to communicate any updates to those plans with all relevant stakeholders.
Example situational judgement test questions
You have just received a call from an unhappy customer. He is disappointed with the service he received from your business and is becoming increasingly distressed as he speaks to you. He starts to raise his voice, what do you say to him?
1) I will do all I can to help you with this issue. If you give me your account details I will investigate what has happened here.
2) I am sure there is a logical explanation for this. If you give me your details I will look into it for you.
3) Sir, I can hear that you are really upset but I need you to calm down so that I can help you.
Answer
1 most likely. Answer 1 is personable, it reassures the customer you are listening to their complaint and you will take it seriously. Answer 2 is fine, but doesn't demonstrate any emotional understanding to your customers complaints.
3 least likely. Answer 3 lacks emotional intelligence, asking a customer to calm down when they are upset is a sure fire way to make them angrier.
After using the platform for two weeks, I've never felt more prepared for an Aptitude test.
Ethan used Practice Aptitude Tests to improve his situational judgement scores.
Start your success story
How are situational judgement tests scored?
Situational judgment tests measure your ability to perform in different scenarios and situations. Your answers will be grouped depending on the ability they assess. After that, they combined score of each ability is compared to the answers of the normative group - people who already have a proven fitness for the position.
What are situational judgement tests used for?
Situational judgment tests are used for assessing the competencies of a potential worker in simulated work conditions. The most common are communication skills, team spirit, customer focus, networking, analytical thinking, atittude, planning and organisational skills.
What do situational judgement tests involve?
Situational judgment tests involve descriptions of situations that require a test-taker to find a proper response among the answering options. Each option corresponds to the level of a person's competence related to the simulated situation.
What do situational judgement tests measure?
Situational judgment tests measure a prospective employee's competence level related to certain work scenarios. Simulated situations with set answer options are meant to assess communication skills, attitude, organizational skills, networking, etc in a test-taker.
Where can I practice situational judgement tests?
Practicing is the best way to be prepared for situational judgment tests. You will learn what to expect from questions and how to react to certain situations. Our website provides all the widely-spread situational judgment tests for you to practice along with guides, tips and correct answers to the trial questions.
Which employers use situational judgement tests?
Situational judgment tests are one of the most popular aptitude tests. These tests provide the employer with a detailed picture of the competence level of a potential worker. That is why it is very likely that you will see this test type while interviewing for both big and small enterprises.
Situational judgement test tips
1

Remember to research

Try to find out as much as possible about the company and role you are applying for. It's important to consider the qualities that the company's culture is based on when answering Situational Judgement Test (SJT) questions. Think about the type of qualities the organization is going to be looking for. Teamwork and building relationships are among the most popular qualities that any candidate will need in a workplace environment but you might work out what other competencies you need to have.
2

Ethics first

All employers value strong ethics. When answering SJTs, you should be guided by the companies values but also by universally recognized concepts of right and wrong conduct. It's also a good exercise to make a list of values that apply directly to your profession. For instance, appreciation of client confidentiality and professional secrecy in client/lawyer relations are the key values that everyone who wants to be a lawyer is assumed to understand.
3

Unethical options are incorrect

Following this, the unethical options will be the wrong choice.. You might have been charmed by the sneaky protagonists in TV series, in which they get along lying and being dishonest to most of their colleagues, but luckily in real life, societies still value the opposite. So if one of the possible actions is dishonest, involves lying, disguising personal errors, acting in an uncooperative manner, or provoking a client or a customer then this answer will not be correct or a "least likely" option, if you are not presented with other choices.
4

Practice makes perfect

The catch in any situational judgment test is the high probability of any of the presented answers ( except the ethical examples explained above). We recommend you to think in accordance with the promoted values outlined in the company's profile, but to really ace it you might want to train your situational judgment muscles and take one of the mock situational judgment tests profiled by some brainy people we have been working with.
5

Best response dilemma

Often you'll be asked for the 'best' or 'most likely' response. This means choose the most appropriate response given the information you have. It might not be perfect, it just needs to be better than the rest.
Situational judgement video tutorials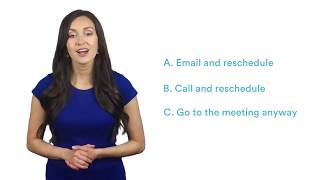 Last Minute Sickness
1 min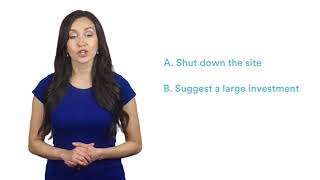 Internal Website
1 min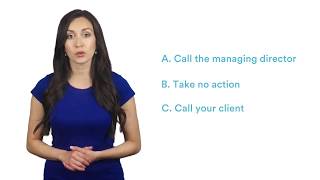 Double Booked
1 min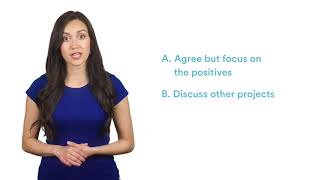 Delayed Project
1 min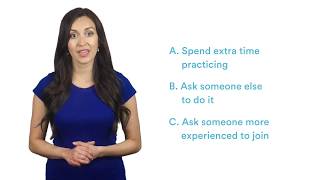 Quarterly Review
1 min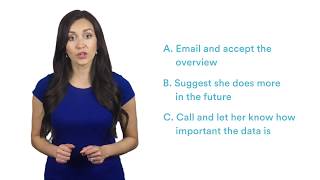 Requesting Data
1 min
Try Situational Judgement Tests for Free
Free

Situational Judgement 01

20 Questions|20 Minutes
Improve your scores with our intelligent learning system
Get instant access 24/7 to real life tests

Track historical test performance with our custom dashboards

Learn from mistakes with our fully worked solutions

Prepare for top employers with our bespoke employer packages

Compare your scores against industry standards

Access all 30 Situational Judgement Tests
Improve your hiring chances by 76%
Prepare for your Situational Judgement Test
One-time payment. No recurring fees
Situational Judgement Package
1 month access
30 Situational Judgement Tests
Dashboard performance tracking
Full solutions and explanations
Tips, tricks, guides and resources
All Test Packages
12 months access
45 Numerical reasoning tests
45 Verbal reasoning tests
30 Diagrammatic reasoning tests
30 Situational judgement tests
25 Publisher packages e.g. SHL
180 Employer packages e.g. HSBC
+ 11 Extra packages including: Abstract, Inductive, Mechanical, Personality and more
Dashboard performance tracking
Full solutions and explanations
Tips, tricks, guides and resources
Upgrade now
30-Day Money-back guarantee
SSL secure payment